Healing Crystal Green Aventurine and Blue Agate Stone
General appearance
Green between dark and milky. Soft and light touch, bright green and opaque, it seems that inside has as "glitter", and sometimes has small spots or dark microparticles.
Rarity
Easy to get.
Origin
Italy, Brazil, China, India, Russia, Tibet, and Nepal.
Zodiac sign
Libra, Scorpio
Attributes
It has a deep connection with the Device world and with higher spirits. It is the stone of leadership, decision, and will. Promotes compassion, empathy, and perseverance. It takes you back and to the past to analyze the causes or roots of a problem or disease. The green aventurine, comforts, heals and protects the heart, is a natural harmonizer that puts things back under control. Regulates the correct growth in children up to seven years old (it is very linked to this number). Its natural energetic mist also creates a protective barrier against energetic vampires. It is also used to eliminate the geopathic tension of homes or gardens. It says that if you lose something, you can hold the stone in your hand,
They say it is used in rituals related to prosperity, personal growth and the pursuit of goals and work.
Healing
Strengthens the capacity for expression, cures stuttering and neurosis. It is a good stabilizer of nausea and solvent of emotions and negative thoughts. It is a general medicine that brings well-being and emotional calm.
Position
On the heart, chakra to heal it, on the throat chakra to promote the capacity of expression.
Rituals
Take in elixir to apply its healing properties. Place between white and green candles so that your essence avoids spies and energetic vampires that may be snooping on rituals.
Cleaning and recharging
Leave in gardens and open and fresh places, or close to nature. Cleanings with water and sunlight are quite effective.
About Blue Agate
General appearance
It has the same design as any normal agate, with the difference that it is tinted with intense blue tones. If the sun puts it fades.
Rarity
Common.
Origin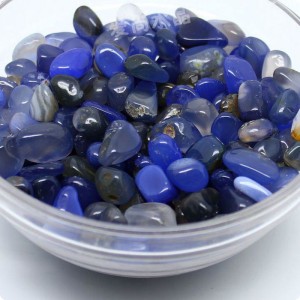 Brazil.
Zodiac sign
Any.
Attributes
As is artificial, they have not attributed any powers. But this particular one is a transformative energy of high vibration in other very low vibration. It does not work with medium wave energies. They do not like spirits of high vibration.
Healing
Any.
Position
Unknown.
Rituals
Use at the indicated transformation point, or in the center of a circle to attract the vibration towards it. Use blue and white candles to focus energy.
Cleaning and recharging
Anyone is worth it, it cleans fast and does not keep energies for too long inside.