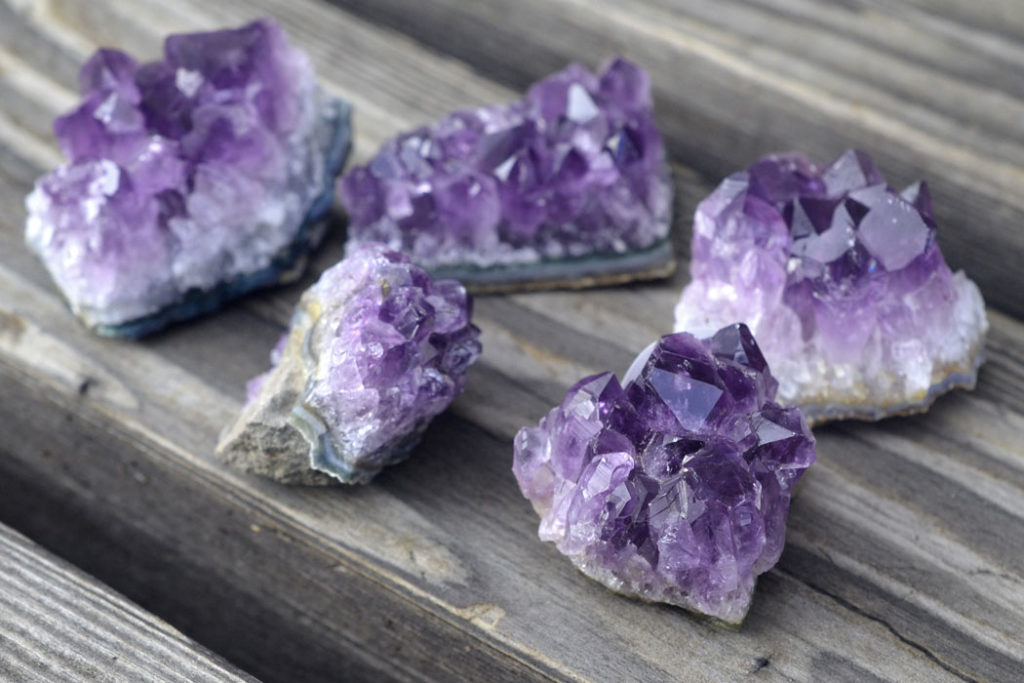 Mineralogical properties
Amethyst is a violet-colored quartz crystal. It holds its color of manganese, iron and titanium. It is found particularly in South Africa, Brazil, Canada, India, Madagascar, the Urals and Uruguay. Its crystalline system is trigonal.
Properties and virtues of amethyst in lithotherapy
The virtues of amethyst are soothing and purifying. It relieves stress, calms insomnia and promotes concentration and meditation. It is a very beneficial stone for the mind, which helps to find balance and serenity. Leonardo da Vinci also wrote about her that she had the power to "dispel bad thoughts and sharpen intelligence".
You can use our search engine of stones and crystals by entering "amethyst" to see directly the affections against which this crystal is used in lithotherapy. But before focusing here on the properties of amethyst and the ways to use them in the context of lithotherapeutic practice, let's take a detour by mythology and etymology…
The etymology and the meaning of the word "amethyst"
The term amethyst comes from the Greek amethystos , and more precisely from the verb methyo which means "to be drunk". The private particle "a- " leads to the translation of the term "who is not drunk".
How and why to use amethyst?
Amethyst is a stone particularly popular with lithotherapists, and in general by all lovers and lovers of stones and crystals. It has the power to refocus energies, in particular psychic, and it is often worn as a necklace. In addition, using amethyst as a center of meditation broadens the chakras. This unique stone helps to get rid of fears, addictions and heals migraines. It improves the general nervous state and helps to find the psychic balance.
You may also like – Crystal Pencil Points
Amethyst virtues against physical ailments
From the point of view of the individual to receive care, he will often be asked to hold the amethyst in his hands during the session. The healer will place the various amethyst stones at the places of the body that need to be healed, usually the heart and lungs.
Migraines and headaches
If you are constantly suffering from headaches and migraines, the solution is at your fingertips: an amethyst crystal. Lie down and close your eyes. Put the crystal on your forehead and relax: let the stone heal you. To protect yourself from migraines, wear an amethyst and yellow amber.
Stress
With the madness that characterizes our world, we are often exhausted because our body is used beyond its normal limits. In order to repair your nervous system and relieve stress, spend a few minutes each day drawing on the power of amethyst crystals. It is also used for children who are subject to anger and rage.
Skin problems
Against skin problems, amethyst can bring you its beneficial influence. If you have acne, wear an amethyst on you. You can also apply it (clean) daily to the most affected places. Do the same with the boils.
If you have shingles, keep an amethyst crystal on you, and place a good one near your bed. In case of burns, you can apply an amethyst to relieve pain and speed up the healing process. Finally, if you have developed abscesses, apply them an amethyst.
Respiratory and blood problems
Amethyst is very often used for problems related to breathing and the blood system.
Check Out this latest collection of Chakra Ball Pendulums
You can heal breathing problems faster by using it. It is sufficient, in addition to the medications prescribed by the doctor, to place an amethyst on the chest, between the lungs. If the damage is severe, hold the stone in place during sleep, using a bandage or a suitable tape.
It is also known for its beneficial effect on blood diseases, blood pressure and anemia.
Pains
Amethyst is known for its ability to relieve pain in the muscles and joints, including sprains. To heal these ailments faster, you can place an amethyst placed inside an elastic bandage wrapped around the sore area.
Strengthen the bones
Wear an amethyst around your neck or keep one in your pocket to strengthen your bones.
Amethyst elixir
Make an amethyst elixir by placing one or more stones in a clear container filled with water. Let the mixture sit outside in the moonlight all night long. For this realization, the nights of full moon are most indicated.
This elixir can also be used against imperfections and to soften the skin. Apply directly on these imperfections or use it as an ingredient for your masks.
Dial an amethyst elixir and use it to bathe the body parts prone to circulatory disorders. It accelerates the circulation in both bodies: physical and etheric.
For blood diseases, you can drink this elixir every morning before breakfast.
Psychological and psychological virtues of amethyst
Nervousness and nervous disorders
Amethyst is a balance stone, which is beneficial to all disorders of nervous origin. To calm nervousness, always wear an amethyst. Take it in hand when you feel that your nervousness is intensifying. You can use it the same way if you are subject to anxiety states. It is also known to calm the attacks of hallucination.